QUALITY AGRI SEATS PLUS NEW KAB SCIOX ON TEK STAND AT LAMMA 2019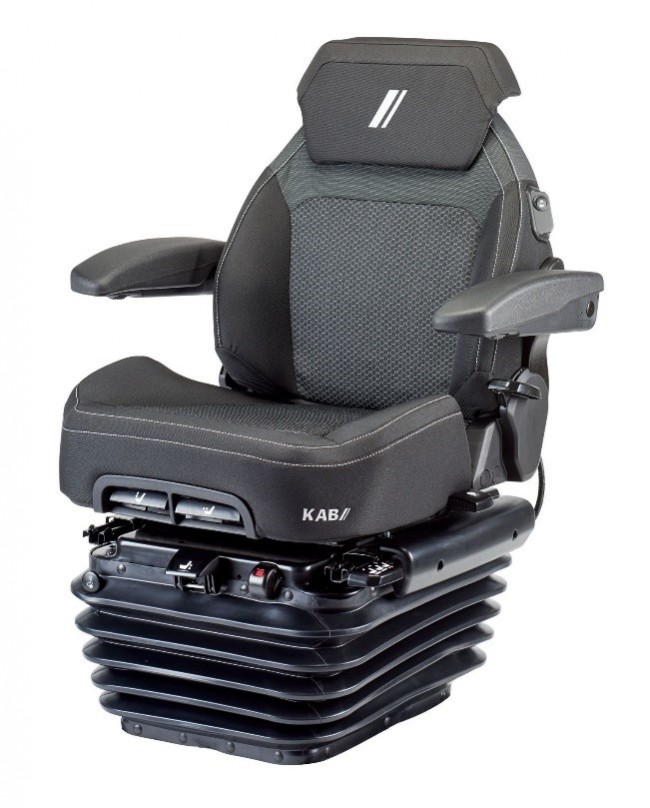 FOR THE best selection of new and replacement agri seats that work with your body shape, head for the TEK Seating stand (6/502) at LAMMA 2019, taking place at Birmingham's NEC from 8th to 9th January.

TEK Seating, the UK's biggest independent vehicle seat distributor for the OEM and aftermarket, is displaying a variety of superior seats from leading industry names such as KAB, Grammer, Milsco, Isringhausen and United Seats.

From a basic pan through to a full air suspension seat, TEK offers a wide product range to suit most agri vehicles
The TEK stand leads with the new SCIOX Super seat from KAB Seating (pictured) offering top-of-the-range variable damping technology, with a heater and mechanical lumbar available as standard. This makes the Super a firm seating option for maintaining driver comfort and support.
Also on show will be the MSG85/721 Maximo Basic from Grammer - a mechanical seat ideal for standard tractors with a seat height that can be set in three steps via a locking mechanism.
There will also be a selection of other KAB seats, including the 81/E6 and Air 85/E6 for larger tractors. The 81/E6 features mechanical suspension, contrasting two tone fabric trim, 75mm height adjustment and lumbar support, while the Air 85/E6 with low frequency suspension features one touch riser and mechanical lumbar. For smaller tractors we will be showing the stylish XH2/U4 with pivoting armrests.
Milsco's XB180, XH110, XB200 all-weather, multi-purpose, ergonomically designed, competitively priced static seats can also be viewed, along with its CE200 low profile mechanical suspension seat, designed for comfort and support and incorporating an ergonomic two-piece, foam-in place cushion that is durable and weather resistant.
We also offer a range of products from United Seats including the CS 85/C1, H90 and the MGV25. The CS 85/H90 is a mechanical suspension seat, ideal for tractors, which features PVC or fabric trim, three step height and a foldable and adjustable backrest. United also offers the LGV90-C1 and the CS85-C1.
The LGV90-C1 features air suspension with integrated compressor, 80mm stepless height adjustment, lumbar support, armrests and backrest extension, while the CS85-C1 with mechanical suspension features height adjustment of 60mm in three stages and an adjustable backrest – narrow versions are available.
Another option is the 6000/577 seat from Isringhausen, available with either mechanical or air suspension and featuring a backrest reclining mechanism, seat height and slope adjustment, suspension dust cover and front operated double locking slides.
TEK Seating MD Paul Fleming, commented: 'A good seat is an integral part of health and safety for all operators. A days' work for a driver consists of sitting in one of these seats for the majority of their working day, so it's crucial they understand how it works and that it's correctly fitted for their body shape. A properly fitted, comfortable seat is a win win situation for drivers and operators alike.
'We're particularly excited to be bringing the new KAB SCIOX to the show – manufacturers are upping the anti all the time with new designs and modifications so it's important for operators to keep up-to-date with what's out there."
TEK also supplies a wide choice of quality parts and spares, as well as an excellent and reliable trim service. Our experienced staff will be on hand to offer advice on the best seating solutions for all your agri needs, so come along to stand 6/502 to find out more.