RANCHER LEADS THE WAY ON THE TEK STAND AT CEREALS 2023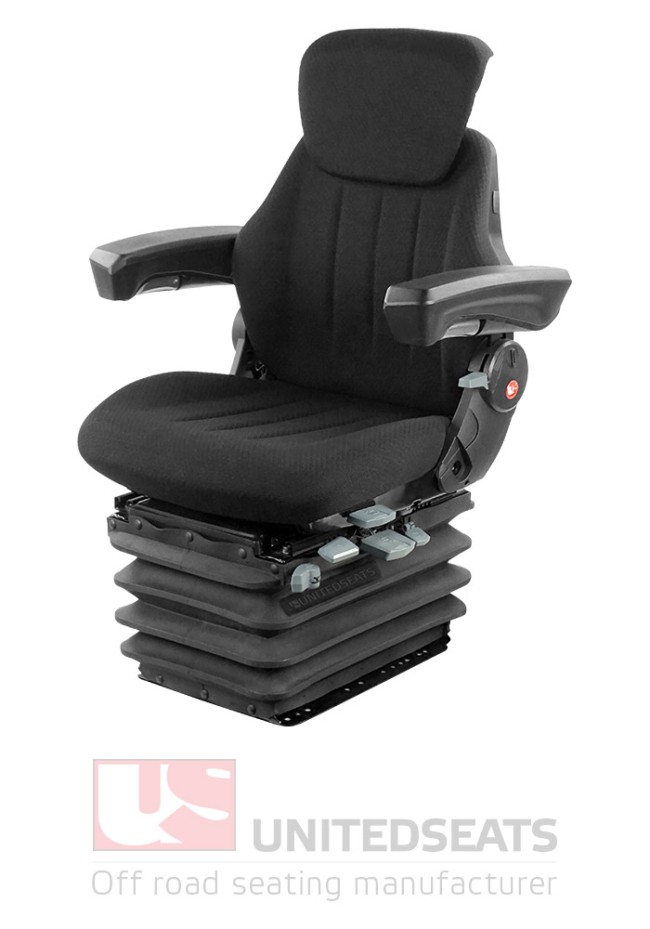 IF YOU'RE looking for the best quality and most competitively priced new and replacement seats on the market, visit the TEK Seating stand (606) at CEREALS 2023, taking place from 13th - 14th June at Thoresby Estate, Nottinghamshire.
Workers in the farming industry are prone to lower back problems so make life easier by making sure you, or your employees, are sitting comfortably and correctly on a properly fitted seat. TEK is an independent vehicle seat distributor for the OEM and aftermarket offering a choice of superior driver seats for agricultural vehicles from leading manufacturers such as United Seats, KAB Seating, Grammar and Milsco.
If you're looking for a basic pan seat or a full air suspension seat, TEK offers a wide choice of options for most vehicles and budgets. The high-quality Rancher LGV95/H152 AHD (pictured) and the Highlander LGV95/HL152 from United Seats, feature integrated controls and powered adjustment for height and weight settings. Cushions provide optimum comfort levels for operators plus a variety of adjustments for cab ergonomics. Other seats include the CS 85/C1, the T600 AB rear suspension seat and the W700 mechanical suspension seat.
Damping technology
Also available is the SCIOX Super and Super High seats from KAB Seating featuring top-of-the-range variable damping technology. This makes the Super and Super High firm seating options for maintaining driver comfort and support. Other seats include the 81/E6 and Air 85/E6 for larger tractors.
The 81/E6 features mechanical suspension, contrasting two tone fabric trim, 75mm height adjustment and lumbar support, while the Air 85/E6 with low frequency suspension features a one touch riser and mechanical lumbar. For smaller tractors there is the stylish XH2/U4 with pivoting armrests.
TEK also supplies the MSG85/721 Maximo Basic from Grammer - a mechanical seat ideal for standard tractors with a seat height that can be set in three steps. Other seats include the Maximo Dynamic for mid-size and large tractors and Grammer's Maximo Professional seat with low frequency suspension suited to medium and heavy-duty tractors. The Actimo Evolution is a premium-comfort seat for agricultural machines, such as sprayers, and is equipped with a low-frequency pneumatic suspension to effectively compensate vibrations and jolts.
Milsco's XB180, XH110, XB200 all-weather, multi-purpose, ergonomically designed, competitively priced static seats are also available, along with its CE200 low profile mechanical suspension seat.
TEK Seating Sales Manager Mark Vivian, said: 'Cereals is a great platform for us to show our diverse selection of seats for different applications and to connect with our suppliers and customers. Work vehicle seats need to be comfortable, reliable and safe to protect drivers from vibrations, helping to promote better health.'
As well as an excellent, reliable trim service, TEK also provides a variety of quality parts and spares.
To find out more visit us on stand 606.