TEK SEATING AT IMHX 2019 - PROTECTING DRIVERS' BACKS IS OUR BUSINESS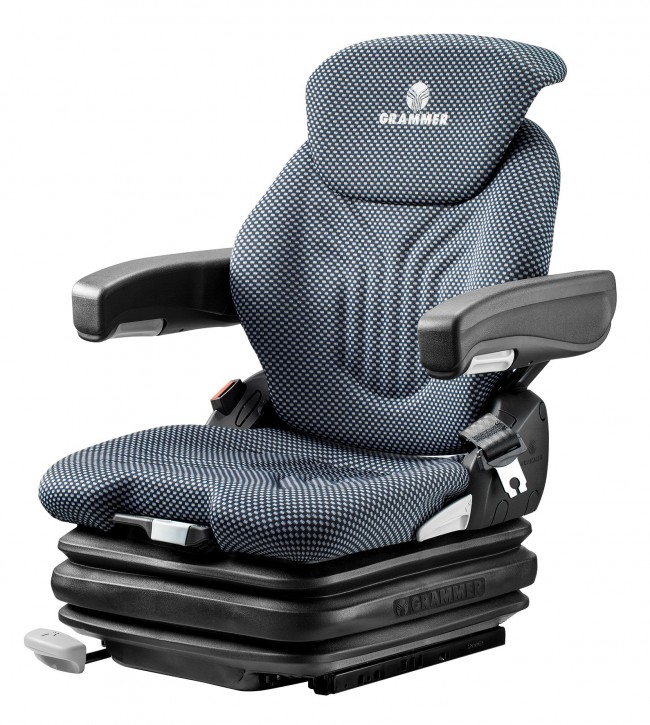 PROTECTING drivers' backs from vibrations on all kinds of flooring and terrain is an important part of health and safety for both operators and employers alike. TEK Seating can help advise on the best options for your vehicle as the UK's biggest independent OEM and aftermarket vehicle seat distributor. TEK is exhibiting its collection of material handling seating from leading suppliers such as Grammer, KAB Seating, Isringhausen, United Seats and Milsco on stand 19J135 at this years' IMHX show, taking place from September 24th – 27th at Birmingham's NEC.
The ergonomic Grammer Primo series of seats (pictured) makes sitting comfortably a whole new experience. An innovative seating concept as the first seat for forklift trucks with a low-profile suspension, it is optionally available with pneumatic or mechanical suspension and quick weight adjustment. As the first low profile compact seat the Primo is equipped with a lumbar support.
The Grammer MSG20 is a compact mechanical suspension seat with rapid weight adjustment for forklifts and small diggers. Quickly adjustable for healthy sitting, it is designed to be as easy as possible to use and offers maximum comfort. It comes in fabric or PVC. A narrow version is available where space is restricted.
Safety and comfort
TEK will be showing KAB's Sentinel seat – a premium solution for forklifts and other small vehicles. The Sentinel is available as Air or Mechanical seats with the Air offered in Premium and Deluxe versions. The range has been designed with user safety and comfort in mind, with easy-to-use features which maintain user productivity in hard working environments.
The other KAB seats ideal for material handling are the KAB 211 – a low profile suspension seat for forklifts and ride-on mowers suitable for most forklift trucks or any application with limited overhead room - the economical 214 and 254 and the mid-priced 524 and 525 seats.
Also available are the CE200 and the TEK12 seats. The CE200 low profile mechanical suspension seat from Milsco is designed for comfort and support and incorporates an ergonomic two-piece, foam-in place cushion that is durable and weather resistant. Also from Milsco are the CR100 and the cost effective XB200 and XB180 pan seats. The TEK 12, with a switch, is a competitively priced semi-suspension seat perfect for forklifts and other material handling vehicles.
United Seats supplies a range of driver seating ideal for smaller vehicles for all budgets from the premium LGV 35-C2, the mid-priced MGV25 and MGV35 seats and the cost effective US20 and GS12 seats.
And Isringhausen also offers suitable material handling seats including the 6500 KM577 24 volt, the 6000/577 and the 4004/400.
TEK also supplies a wide selection of accessories such as armrests, seat cushions, belts etc from all the main manufacturers.
Visit us on stand 19J135 at the show for more advice on your driver seat requirements.