TEK SEATING - PUTTING DRIVER COMFORT AND SAFETY FIRST AT HILLHEAD 2018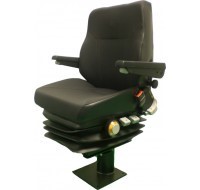 FOR TOP quality seats for all types of construction vehicles, including forklifts and dumpers, look no further than the TEK Seating stand (C3) at this year's Hillhead show, taking place from June 26th to June 28th at the Hillhead Quarry in Buxton.


TEK Seating, the largest independent vehicle seating distributor for the OEM and aftermarket in the UK, is exhibiting a comprehensive range of high performance seats from leading manufacturers including KAB, Grammer, Isringhausen, Milsco and United Seats.
High spec seats
On show will be seats from the high spec KAB 600 series which feature a wide platform for improved stability. The 61/K4 and K1 are high and medium back mechanical suspension seats, while the 65/K1 and K4 are high and medium back air suspension seats.
Another robust construction seat on display will be the KAB 525P air and mechanical suspension seats with pods, plus the KAB 411 mechanical suspension seat and the economical 211 and 214 seats.
Other quality seats on view include the Actimo and Maximo ranges from Grammer for heavy duty use. These high performance seats help to protect drivers from the vibrations and rigours of daily use. Of particular interest is the Actimo Evolution P premium comfort seat with pods featuring low frequency air suspension, an automatic positioning system, adjustable shock absorber, electronic weight adjustment and pneumatic lumbar support.
Also from Grammer is the MSG20 - a compact seat with rapid weight adjustment for small vehicles to facilitate healthy sitting.
From Isringhausen are the versatile 6000/577 SK mechanical suspension and the 6500/577 24-volt air seat. Both feature front operating controls, armrests, horizontal adjustments and seat contact switches.
Its JCB spec 60000/575 mechanical seat (shown) comes as pictured on a pedestal turntable with armrests and seatbelt and includes a backrest reclining mechanism, seat height and slope adjustment, suspension dust cover and front operated double locking slides.
We will also be showing a range of all-purpose seats with various height backrests from Milsco including the CE200 low profile mechanical suspension seat which is ideal for small construction vehicles such as skid-steer loaders, dumpers and rough terrain forklifts.

Designed for comfort and support, the CE200 seat incorporates an ergonomic two-piece, foam-in place cushion that is durable and weather resistant.
Also ideal for construction/plant vehicles from United Seats is the LGV 90 – C2, featuring air suspension with an integrated compressor, heavy duty PVC, 12 or 24-volt compressor and backrest angle adjustment.
We also supply the popular, adjustable TEK 12 seat with slide rails and switch which is easy to fit as no drilling is required.
Paul Fleming, CEO of the TEK Group, commented: "Operators often work in extreme environments and suffer with back issues from the vibrations. Protection is therefore crucial and so it's important that all drivers understand how their seat works and that it's correctly fitted for their weight and body shape. There are no pitfalls to investing in a good seat."