TEK SEATING - SUPPORTING DRIVER COMFORT AND SAFETY AT COACH & BUS UK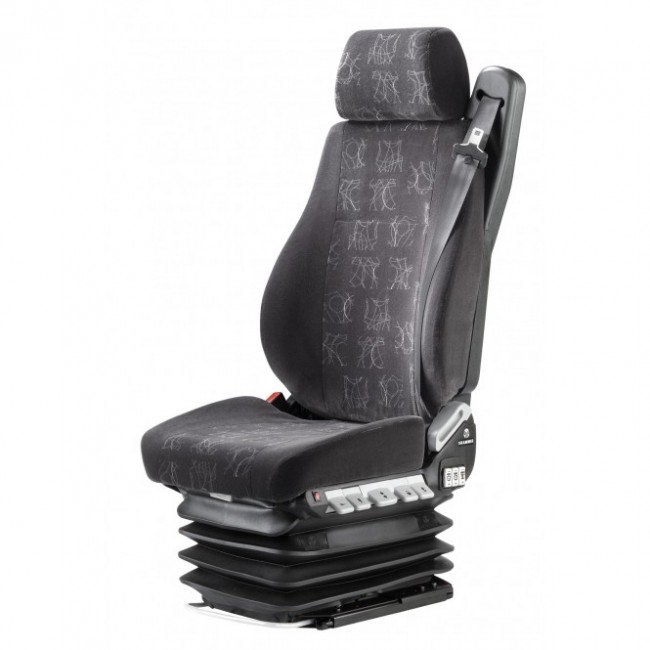 QUALITY bus and coach seats to protect drivers' backs from the rigours of driving long hours, feature on the TEK Seating stand (M41) at this years' Coach & Bus UK 2019 at Birmingham's NEC from 2nd to 3rd October.
TEK Seating is the UK's leading independent OEM and aftermarket vehicle seating supplier, offering a range of driver seats for most applications and budgets from leading manufacturers including Grammer, KAB Seating, USSC, FISA, Isringhausen, and Be-Ge.
One of our most popular seats is the Grammer pneumatic suspension MSG 90.3 driver seat (pictured) which enables drivers to sit optimally. The seat is equipped with an anti-sinking mechanism so regardless of the driver's weight, the seat automatically returns to its original height setting.
High spec
For discerning drivers, where comfort and style are a must, there is the high spec NTS 2 seat from ISRI – an updated version of the original NTS seat. Key features include variable height adjustment with memory, backrest horizontal and shoulder adjustment, tilt and seat fore/aft adjustment, an integrated 3-point safety belt system and an integrated pneumatic system to ensure that the backrest fits the body's contours.
The TEK stand also features seats from KAB Seating, including its' stylish Bostrom WP Comfort seat. Designed by suspension seat experts using the latest technology, it provides superior comfort and orthopaedic support. Available in high and medium spec versions, the Bostrom WP Comfort is designed to meet the service needs, performance requirements and certifications for all commercial vehicles with a gross vehicle weight of six tons or more
Also to view is the KAB 414 PSV - a mechanical suspension seat featuring manual driver adjustment, 60mm seat height and tilt adjustment, backrest adjustment and suspension cover, while another popular choice is the KAB 714B driver seat - an air suspension seat with a high backrest which provides excellent support and comfort and comes complete with an integral 3-point seat belt. Both seats offer a range of options so please ask a member of staff for advice.
The stylish Kingman from Grammer is a quality comfort seat ideal for long distance driving and touring. The Kingman is an innovative, friction-optimized suspension system based on cutting-edge shock absorption and control technology.
Paul Fleming, TEK Group CEO, commented: 'The Coach & Bus show always gives us the opportunity to showcase our quality driver seats, as well as giving us the chance to network with our suppliers and customers.
'Operators are becoming more knowledgeable about what they spend their money on. We're seeing worn out seats replaced with higher quality versions as they realise the long-term health and safety benefits for their employees, and themselves, with drivers taking less sick leave.'
For further information on all our ranges, or for specific advice, visit us on stand M41.